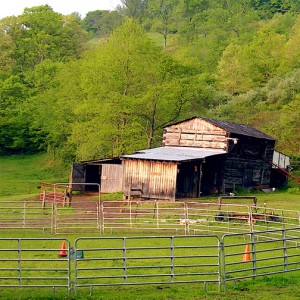 wwoofusa.org
We are a wwoof farm.
We have a 260-acre farm in rural West Virginia. It is a combination of forest, and small farm. We are part of the forestry stewardship program, with several goals. We want to reestablish native flora and eliminate invasive species, the goal being to have a sustainable source of native and medicinal plants.
The farm consists of developing organic gardens and an evolving equine retreat and sustainable living center. Horses are at the center of what we do. They provide manure for our gardens and by developing our relationships with them; we can learn how to heal ourselves in Body-Mind-Spirit.
Our focus is on living a whole life and how to bring pieces of the puzzle together for a simple healthy and happy way of life.
We currently provide about 75% of our own food, and would like to expand into a business, serving our local restaurants with fresh organic produce. We need people to help build and develop raised vegetable beds. Work will also include planting, weeding, insect control, harvesting and putting up the food, planting native species as well as harvesting and drying of medicinal plants, culling invasive species, planting fruit trees and bushes, building and maintenance of fences, barn building, complete renovation of 150-year-old log home, building cabins for future woofers and guests, vehicle maintenance and restoration and daily care of horses.  Riding lessons and natural horsemanship lessons can be an addition to the experience you will gain in organic gardening. We are artisans and you can learn a variety of crafts including fiber arts and leatherwork. We would like a minimum of a two-week commitment with 30 hours of work per week (the timing is flexible), indefinite possibilities are available if the "fit" is right and we can use help year round. Our farm is located in the Central lakes region of West Virginia with easy access to the entire state. There is much to do including white water rafting on the New River, rock climbing, and music at Mountain Stage, Unique wilderness areas and great Historic sites. We offer room and board. Two small campers are available and tent or tipi camping is always welcome. All meals are at our house and we can accommodate special dietary needs. Children and pets are welcome. There is no public transportation but we will be happy to pick you up from the airport or bus station.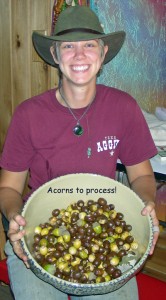 This is just a portion of the acorns that Katelin  and I collected. She dedicated herself to peeling, and after they were processed, we had the most delicious acorn flour!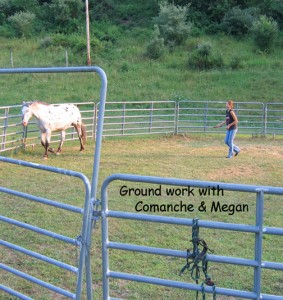 After a day of gardening, Megan and Comanche are having some fun.