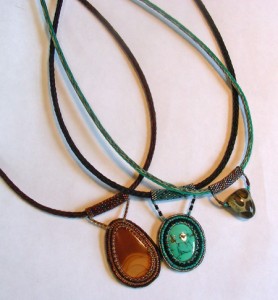 Check out this Video of my Braided and Hitched Horse Hair Jewelry
Busy fingers make a happy mind! I have always had a fascination with the art of putting fibers together to create beautiful things. I offer a line of braided horse hair jewelry and beadwork. Choose an item from the horse hair jewelry I have available or I can create a memento for you with your horse's hair.
My braids are created using the ancient Japanese technique of Kumihimo. The braid is set up on a frame called a marudai and uses a system of weighted bobbins and a counter weight to maintain the tension. This technique allows me to create a wide variety and styles of braids, flat, square, round & lace that are both beautiful and durable. The ends are capped with peyote stitched beadwork, an attractive contrast to the braids.