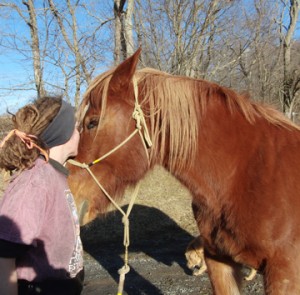 Bullet is a 2002 QH Belgian cross whose feet had been severely overtrimmed leaving him with thin soles and slight lameness in his right front foot. Here he is pre-purchase in July 2010.
He was extremely flat footed with very under-run heels and long toes, and the typical "clover shaped" feet often seen in larger breeds.
He has a skeptical mind but is very intelligent, eager and willing to learn.
His feet have come a long way in a very short time. This is only his third trim, and we are beginning to achieve some equilibrium between internal and external structures.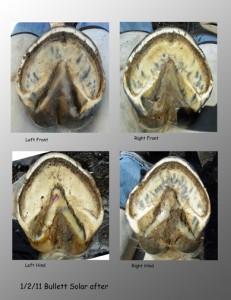 Orthotics for Bullet
Bullet has come a long way since I first began trimming him. He has developed very strong heels that are correctly positioned in relation to the underlying foundation, his inner wall has increased and he has gained some height to his entire foot.
The soles of his front feet are still thinner than I want to see, and I am going to use Sole Mate Pads to help stimulate sole growth.
We decided to use them in conjunction with easy boots, as Tenley (Bullets partner) is comfortable with their use and it will make the daily application easier for her.
First an impression is created by having Bullet stand on the pad for a few minutes.

Then I trim the pad to fit both the boot and the foot.
Next I skyve the pad with my rasp to stimulate the area of the foot that I want to develop
Bullet will wear these orthotics for a few hours each day to stimulate growth.